No Comments
Interview: For God, Queen and country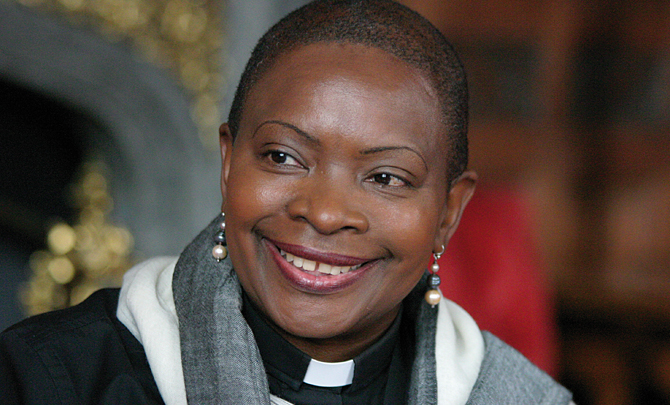 Rose Hudson-Wilkin talks to Charissa King
Rose Hudson-Wilkin was born in Montego Bay, Jamaica, where she began preaching at the age of 14. Four years later, to pursue her call to ministry, she went to England to study as a Church Army officer, before becoming one of the Church of England's first female priests in 1994. Mrs Hudson-Wilkin has served in two parish churches in the London borough of Hackney but she is perhaps best known for her appointment in 2007 to the role of Chaplain to the Queen, followed three years later by her becoming Chaplain to the Speaker of the House of Commons.
The night before we met Mrs Hudson-Wilkin, she had been on Newsnight, contributing to a discussion about whether or not people with strong Christian views should be involved in politics. She had recently returned from an ecumenical trip to support the Church in Zimbabwe. Soon, she will be travelling to Jamaica, where, on 4 November, she will be awarded an honorary doctorate from the University of Technology. Reform met Rose Hudson-Wilkin in the Speaker's State Rooms in the Palace of Westminster.
There are 33 Queen's chaplains. How much contact does that give you with the Queen, if any?
I was appointed at the end of 2007, and from that I was invited to Windsor Castle for a sleepover. Dinner and a sleepover with Her Majesty! Annually, we go to a garden party. She has a number of private chapels throughout the country. We take turns preaching, so we're basically there for her. Worship goes on whether she is at that service or not. More importantly, we pray for her daily, and for her family. Someone remarked to me about her longevity and I remember thinking: 'Wow, yes!' And then I heard myself saying: 'But Rose, why are you surprised? You're all praying for her every day!'
You've described the Queen as 'anointed by God'. What do you mean by that?
In her coronation service, she was anointed by the archbishops and set apart. In the same way, when we consecrate the priest or the bishops, we set them apart for particular work. She is set apart for service – for her people as it were. This is not just: 'Oh she was first in line to the throne'. She is chosen, and she recognises that. I'm sure she would love to be an ordinary person without the cameras, lights and all the gloss. But she recognises her role as something she's been set apart to do. She believes in it, and she carries it out with a great deal of compassion.
You're also Chaplain to the Speaker of the House of Commons. How neutral does that role require you to be?
The role is a historic role. It has been in existence for over 300 years. And I'm the 79th chaplain in that period of time; the first woman and person of colour in that role. I am here to serve Mr Speaker, and members and staff of both houses, so my role is a pastoral one. If an MP has done something wrong, I am not there to get on the foghorn and condemn them out there. I will be behind the scenes, praying for them.
I can recall one particular issue where I probably spoke out of turn. I went out on the Andrew Neil show and spoke about the refugees who were coming over on boats. Hundreds were drowning and I'm afraid it wasn't government policy to embrace the refugees. I spoke out on that occasion …
___
This is an extract from an article that was published in the November 2017 edition of  Reform