No Comments
Reviews – October 2020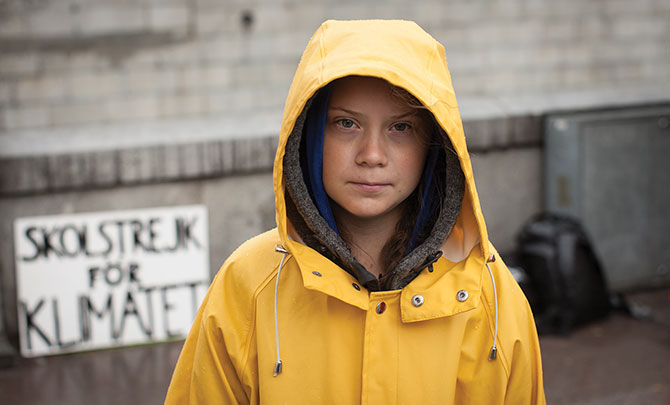 The Greta good
I am Greta
Directed by Nathan Grossman
98 minutes
Released on 16 October
Greta Thunberg is, without doubt, a remarkable young woman. And this is a remarkable film, although not perhaps for the reasons you might expect.
What's remarkable is that when the 15-year-old schoolgirl with Asperger's started her strike for the climate outside the Swedish parliament, the documentary filmmaker Nathan Grossman possessed the foresight to start filming her. He kept filming as she was invited to address organisations such as the European Parliament in Strasbourg, meet with world leaders such as France's President Macron and speak to climate activist meetings and rallies around the globe.
You can't get that close to a person without finding out something about them. Greta is driven by a focus on one issue. As it happens, that issue is the single most important one facing the survival of the human race and the planet. In Greta's reading about and speaking out against the causes of climate change, she is utterly single-minded. She still has time for schoolwork and is shown graduating from school with excellent results.
Someone who for several years didn't communicate with anyone outside her family unit and their two dogs, she is looked after by her father who doesn't particularly share her enthusiasm yet supports his daughter in what she feels she has to do. Greta appears to have changed the family from being a unit of considerable economic consumption to one that makes do with less.
Although she doesn't fly, she still appears to do an awful lot of travelling, mostly by car or rail. The film builds towards father and daughter's harrowing trip across the Atlantic to the climate summit in New York, in a small boat, in line with her principles.
While we should be glad that Grossman's camera recorded all this, he doesn't know what to do with his subject or his wealth of material about her, and the film runs out of steam. Despite that, it's still an invaluable historic snapshot of a young woman who has hopefully made a considerable, positive difference to the future of the planet.
Jeremy Clarke is a film critic. His work is available at jeremycprocessing.com
___
Climate emergency: Poetry and science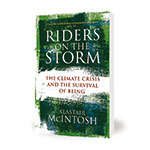 Riders on the Storm: The climate crisis and the survival of being
Alistair McIntosh
Birlinn
£9.99
ISBN: 9781780276397
---
Even if you think you are well informed about the climate emergency, Alistair McIntosh's latest offering ('a small library of interwoven books') repays attention. Seriously up to date, it provides great preparation for the UN climate conference in Glasgow next year.
McIntosh speaks with charming authority, which is at times irritating but always independent-minded: 'Be warned that I love few things better than moving from hard science to spiritual reflections by a Hebridean loch,' he says. Twenty-three pages of meticulous notes at the end underline why he pulls off the scandalous trick of combining the insights of science, academia, poetry and eclectic spirituality.
Describing the notoriously cautious Intergovernmental Panel on Climate Change as 'an incredible organisation', McIntosh unpacks its jargon and forces the reader to reflect on why 'climate change denial is a waste of time, but climate change alarmism is a theft of time'. McIntosh delights in myth's capacity to point to truth, but pseudoscience has a bloody nose from this radical moderate. While exemplary in his personal commitment, McIntosh refuses to deny his, or our, complicity in this threat to life which is beyond even that posed by warfare. Drawing on such diverse resources, including the wisdom of Pacific islanders, McIntosh declares: 'It's happening before our eyes.'
It takes courage to be discerningly, compassionately critical of movements like Extinction Rebellion, without falling prey to the idolatry of false equivalence. Denial, McIntosh states, does greatest harm; justice and ecology are inseparable.
For McIntosh, hopelessness is no valid option, nor pernicious narratives of the pointlessness of individual action. Instead, he conveys a heartfelt urgency for doing whatever you can, while evading burnout and toxic indispensability.
David JM Coleman is Environmental Chaplain, working ecumenically with EcoCongregation Scotland
___
How foodbank systems work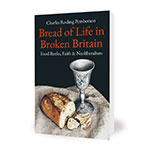 Bread of Life in Broken Britain: Food banks, faith and neoliberalism
Charles Roding Pemberton
SCM Press
£19.99
ISBN: 9780334058960
---
Pemberton is a writer and lecturer in the north who explores issues around the increasing need for foodbanks and the systems that make them necessary. The increase in foodbank use has been well reported. With much of foodbanks' support coming from churches, Pemberton explores the conflict between a desire to feed poorer people and collusion with a system that inherently relies on unjust practices and unsustainable food production. Drawing on extensive research, along with interviews from volunteers and foodbank users, the book explores the theology of food, the political climate of neoliberalism and the role of the established Church in a secular society.
The book explores both political and theological aspects of hunger. Theological ideas – such as land being a gift from God, good stewarding, tithing, and the sacramental nature of what we eat – are explored in some detail. Most of the book though focuses on the political aspects of wasteful food practices, exploitation of the earth's resources, and foodbank users who feel the shame and stigma of a system that assesses who may be deserving.
After outlining the problems of current systems, the book recognises that there is much that is good about the foodbank system too. Nonetheless it advocates the adoption of a universal basic income instead, for churches to use their land for community food production, and for the disestablishment of Church from state, so that it may speak with a more prophetic voice in our society.
Pemberton draws on a wide range of sources which, at times, interrupts the flow and feels academic. Generally, the book is easy to read and the arguments are well delivered. For those who currently work with foodbanks, or those involved in the food industry, this book will raise some interesting political and theological questions as to the sustainability of our food practices, its effect on the environment and how we provide for poor and hungry people in our society.
Julian Sanders ministers in the South East Northumberland Ecumenical Area
___
Islam on Jesus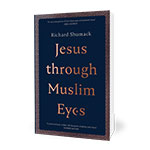 Jesus Through Muslim Eyes
Richard Shumack
SPCK
£12.99
ISBN: 9780281081936
---
Having encountered both a superficial Jesus in childhood and a biblical Christ in later life, Richard Shumack meets a third Jesus in Islam. Is this Islamic Jesus worthy of commitment?
Shumack examines this Jesus on Islamic terms, and the book is strongest when addressing its central question using Islamic scholarship and ideas. Shumack's tracing of Jesus throughout Islamic thought is useful for apologists, especially in summarising modern Islamic scholarship, and particularly the thesis that Islam's Jesus is more historical, originating in Judaistic rather than gentile Christianity.
The heart of Shumack's quest is an examination of historical, doctrinal and ethical questions. Questioning circularities in reasoning (eg the Qur'an is true, Christianity contradicts it ergo Christianity is false) and using rigorous historical enquiry and Islamic scholarship's own criteria of historicity, Shumack effectively defends the reliability of content and formation of the apostolic witness, while questioning sources for the Islamic Jesus. His devastating conclusion is that the Qur'anic Jesus is simply 'not at home', even within Islam, but he is in Christianity.
This book is a refreshing reminder of crucial differences. Islam is about human effort to virtue. It lacks Christianity's radical challenge of personal transformation by the cross. For Shumack, Islam's Jesus is very like his Sunday school version – neither real nor engaging, as opposed to the Gospel's Christ.
Over-stressing similarities requires Christians to sacrifice crucial beliefs and intellectual integrity; it is not a secure basis for dialogue, Shumack reminds us. But that disagreement does not necessarily lead to tension. The need for Muslims and Christians to follow their respective visions of Jesus is essential for a divided world. How Christians, transformed by Christ, might present Jesus to Muslims is a whole new book for a different audience!
Simon Copley serves the United Reformed Church in Sheffield
___
Church youth work pioneer's biography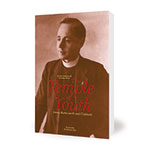 The Temple of Youth: Jimmy Butterworth and Clubland
John Butterworth and Jenny Waine
JB Club Press
£20 (hardback)
Available via bit.ly/jbclub19
---
The name of the Revd Jimmy Butterworth (JB) is legendary in south London's youth work field, and way beyond. When I served as Minister at Crossway, in Elephant and Castle, south London, I was a near neighbour of Walworth Methodist Church, where JB worked, and which serves a very different clientele these days.
Though under five feet in height, JB was a giant, and led Walworth Methodist Church between 1922 and 1976. During that time, he twice built the church, welcoming royalty, celebrities and commoners as equals. The Temple of Youth traces JB's journey, beginning with the effect of his father's suicide. The book then covers the horrors JB saw in the Great War, his battle to become a Methodist minister, the Beech Road Mission and Holmes Chapel probationary period, and his move to a rundown, going-nowhere charge in Southwark.
JB embarked upon growing the church: not through Sunday worship but with six boys meeting for Friday night Bible classes. He introduced a church magazine, and within three months boasted a readership of hundreds. A prolific fundraiser, JB was able to distribute 450 festive parcels and 260 Christmas meals to needy children in his first year. JB's vision was to reach out to young people and get them to organise themselves. His passion, energy and imperative to serve young people was ceaseless: he dedicated everything he had to the cause.
While the book is primarily about JB and Clubland – a celebrated church youth work venture – it also contains social commentary. It is very well researched and makes good use of original sources. JB preserved much of the correspondence he received. The authors used those, and secondary source materials, to add richness to the context of the life and times of JB's revolutionary work. On first sight, this work might have limited appeal but it is worth closer inspection. It reflects on a time and approach that we may never be able to replicate.
Peter Stevenson is Minister of Christ Church and Stamford United Reformed Church, both in Lincolnshire
___
These reviews were published in the October 2020 edition of Reform